CASPA eLetter: No. 136, April 30, 2018
Apr 30, 2018
CASPA Events
CASPA 2018 Career Talk and Job Fair



Date: 05/05/2018
Time: 10:00-15:00
Venue: Crowne Plaza San Jose - Silicon Valley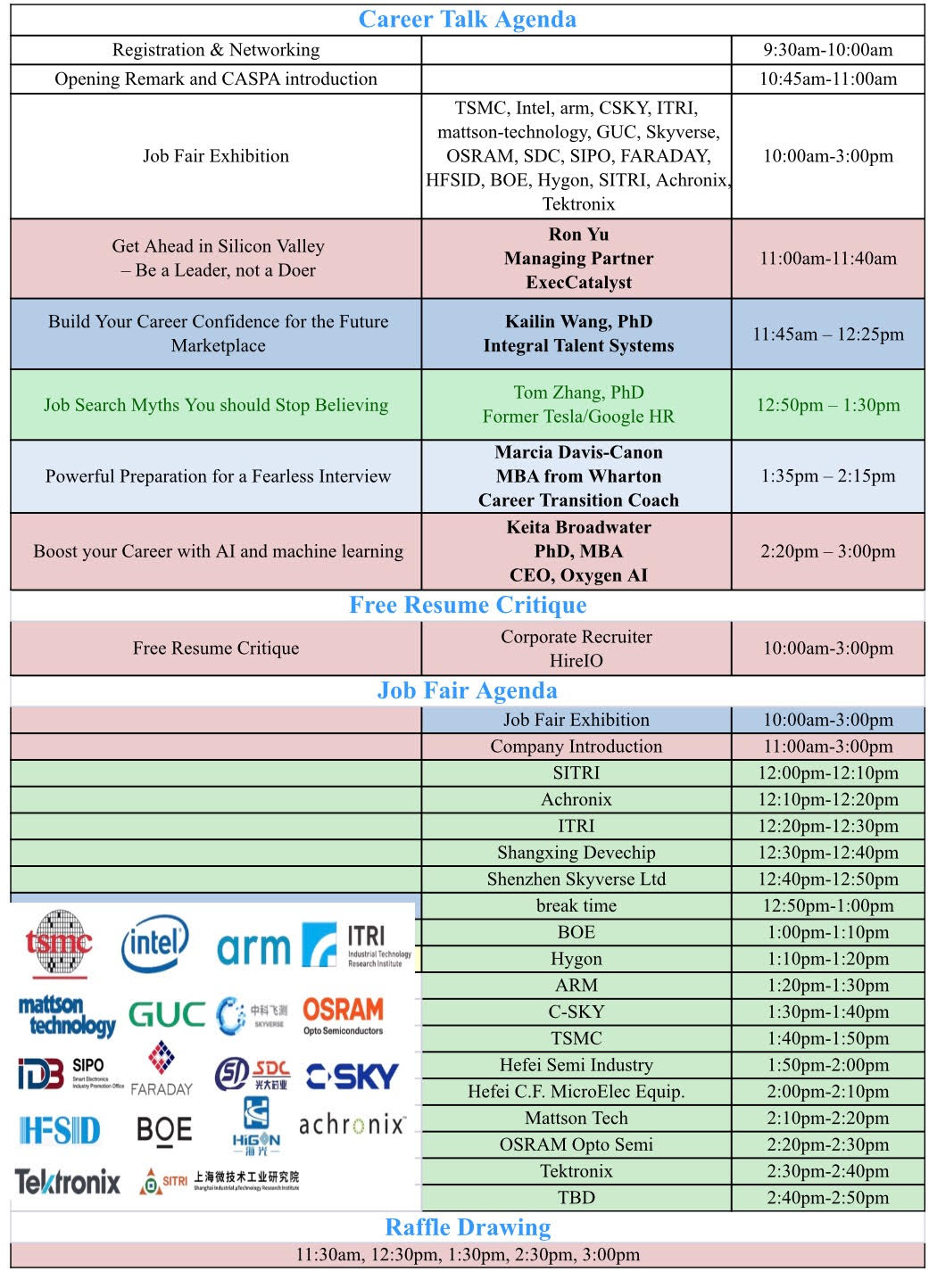 Dear Attendees:
If you've tried looking for a job online, you know what a frustrating experience it can be. You find an interesting position posted, click 'apply' and send your resume, and then wait . . . and wait . . . but never get a response. You have no idea if you're being considered, or whether the employer read your resume or even received your application! It's as if your resume vanished into a black hole..
Whether you're looking for a better job, re-entering the workforce or just starting out, plan to visit CASPA 2018 High-Tech Job Fair. It will be held in the following location on.
Saturday, May 5th, 2018
Crowne Plaza @ San Jose-Silicon Valley,
777 Bellew Dr, Milpitas, CA 95035
Looking for High Tech talent in Silicon Valley, California!
From semiconductor Design company to EDA, Foundry and Fab Equipment, System… Entire Ecosystem
From VP/Director/Manager to Senior Designer, Junior/Entry Level Engineer…
From AI, Machine Learning, Cloud Computing, to GPU algorithm
From QA, Application, Testing, to Senior Scientist…
From Analog, Mixed Signal, EDA & power management…
Many job positions are waiting for you…

Come to CASPA Job Fair, You will

Gain visibility from hiring companies
Meet in person with 18 employers, including Intel, ARM, TSMC, OSRAM, Skyverse, Mattson, SIPO, ITRI, HFSID, Shaoxing Devechip Microelectronics, GUC, C-Sky, BOE, Faraday, Hygon, Achronix, Tektronix, SITRI
Touch hundreds of valuable job opportunitiess
Network with employers and industry peers
CASPA Job Fair Statistics
CASPA has successfully held 21 Job Fairs since 1995, with 180+ hiring companies and more than 10000 attendees, becomes Bay Area Most Influenced Hi-Tech Job Fair event.
Last four years participating companies including Intel, BROADCOM, ARM, JHICC, SAMSUNG, SMIC, GUC, OSRAM, HLMC, Techcode, tsmc, KINGSEMI, Kilopass, HUAWEI, MEDIATEK, NeuroSky, SUPERMICRO, ASML, HFSID, SUNING, UMC and more high profile hiring companies.
Sincerely,
Mingyu Qu, Executive Board of Director, CASPA
Brandon Wang, Chairman and President, CASPA

For more information, please go to
http://www.caspa.com/jobs/jobfair2018
CASPA Education Day



Date: 06/09/2018
Time: 13:00-16:00
Venue: Intel SC-12 Auditorium, 3600 Juliette Ln., Santa Clara, CA 95054
Please mark your calendar & exciting details to to be announced soon.


Alliance Events
Time: 13:00 - 17:00, 05/05/2018
Venue: Delta Electronics (Americas) Ltd., 46101 Fremont Boulevard, Fremont, CA 94538
CASPA Job Alert
Summary of Past CASPA Major Events
Following links include presentation materials for previous major CASPA events during the 2016 - 2017 term:
Thank you for your kind attention and generous support. We look forward to seeing you at CASPA events.
Sincerely,
CASPA | eLetter Publication
QUESTIONS: Please do not reply to this message. If you have any question or need further information, please contact our office at office@caspa.com.
UNSUBSCRIBE: Click here with "UNSUBSCRIBE" in the subject line to unsubscribe.
Copyright 2015 CASPA. All right reserved.