CASPA eLetter: No. 142, July 15, 2018
Jul 15, 2018
CASPA Events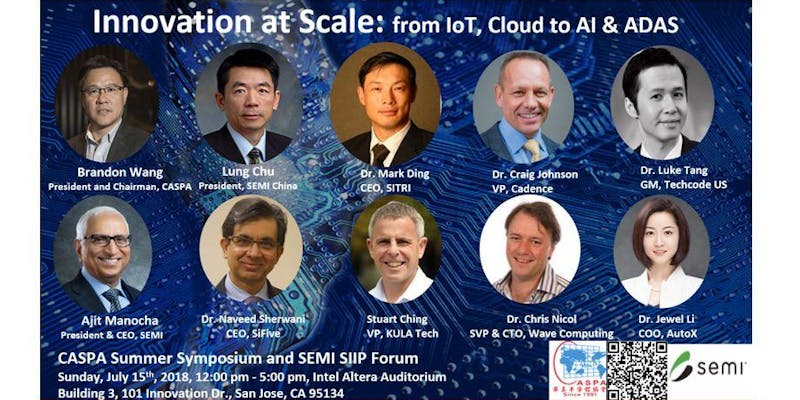 CASPA 2018 Summer Symposium - SEMI SIIP Forum:
Innovation at Scale, from IoT, Cloud to AI and ADAS



Time: 13:00-17:00
Venue: Intel Altera Campus BLDG 3 Auditorium, 101 Innovation Drive, San Jose, CA 95134

Agenda:
12:00 - 13:00:

Registration

13:00 - 13:30:

Welcome Remark


Brandon Wang, Chairman and President, CASPA
Ajit Manocha, President & CEO, SEMI
Keynote Speech:
13:30 - 14:00:

China's Role in the Evolving Global IC Industry


Lung Chu, President, SEMI China; Vice President, SEMI
14:00 - 14:30:

The Dramatic Impact of RSIC-V on Speed of Innovation


Naveed Shervani, CEO,SiFive
14:30 - 15:00:

High Energy Lithium Battery, Friend or Foe?


Stuart Ching, Vice President, KULR Technology
15:00 - 15:30:

Innovate and Win at China IC Industry


Mark Ding, President, SITRI Group
15:30 - 16:00:

Semiconductor Design in the Cloud


Craig Johnson, VP, Cadence
16:10 - 17:00:

Panel Discussion


Moderator: Brandon Wang, President of CASPA

Panelist: Luke Tang, GM, Techcode US
Jewel Li, Democratizing Autonomous Driving, COO, AutoX
Chris Nicol, CTO, Wave Computing
Lung Chu, President, SEMI China; Vice President, SEMI
Alliance Events
Time: 18:00 - 19:00, 07/19/2018
Venue: Northeastern University, Silicon Valley Campus, 6024 Silver Creek Valley Road, San Jose, CA 95138
CASPA Job Alert
Summary of Past CASPA Major Events
Following links include presentation materials for previous major CASPA events during the 2016 - 2017 term:
Thank you for your kind attention and generous support. We look forward to seeing you at CASPA events.
Sincerely,
CASPA | eLetter Publication
QUESTIONS: Please do not reply to this message. If you have any question or need further information, please contact our office at office@caspa.com.
UNSUBSCRIBE: Click here with "UNSUBSCRIBE" in the subject line to unsubscribe.
Copyright 2015 CASPA. All right reserved.