CASPA eLetter: No. 191, July 15, 2020
Jul 15, 2020
2020 CASPA Summer Symposium
Automation, Artificial Intelligence, Cloud Computing under Pandemic

Date:

Saturday, July 25th, 2020


Time:

1:00 pm to 6:30 pm PDT


Venue:

Online Zoom Meeting



Registration Link:

https://www.eventbrite.com/e/caspa-2020-summer-symposium-tickets-113574390058


Letter from the Head of Symposium



Due to the COVID-19 pandemic, people have to work remotely and keep social distance. It leads to great behavior changes to human societies. In the meantime, it creates great opportunities for automation and artificial intelligence (AI), as well as cloud and data center applications. In this year's CASPA Summer Symposium, we invite honorable speakers to shed light on design components, tools to improve automation and AI applications, as well as semiconductor development to combat pandemic.
This event is brought to CASPA members by our Spring Symposium Team. We wish that by attending this Symposium, you will see the value CASPA brings to the semiconductor professional communities, and keep track of the latest technological innovation in the field of Automation, AI, Cloud and Data Center.

Haitao (Tony) Xia



Tentative Agenda:
US Pacific Time
Topics
12:30 pm – 1:00 pm


Dail in Zoom & Networking

1:00 pm – 1:05 pm


Introduction of CASPA Summer Symposium, Dr. Tony Xia

1:05 pm – 1:15 pm


Welcome from CASPA chairman, Dr. Song Xue

1:15 pm – 1:50 pm

Dr. Naveed Sherwani, President and CEO, SiFive
Open Semiconductor Innovation in the AIOT Age
1:50 pm – 2:25 pm

To be confirmed) Dr. Ron Ho, Senior Director, Facebook
AR/VR
2:25 pm – 3:00 pm

Dr. David Pan, Professor of ECE Dept., UT Austin
AI for IC and IC for AI
3:00 pm – 3:35 pm

Dr. Babak Taheri, CEO, Silvaco
Challenges and Opportunities for Global Semiconductor Businesses
3:35 pm – 4:10 pm

Frank Schirrmeister, Senior Director, Cadence
Digital Twins in the Era of Hyperscale Computing
4:10 pm – 4:45 pm

Dr. Kailiang Chen, Vice President, Butterfly Network
Personal Ultrasound, its technologies, and COVID-19
4:45 pm – 5:45 pm

Panel Session : Technologies and Treatment for COVID-19
Moderator: Yulin Xu
6:00 pm – 6:10 pm


Closing Remark
2020 CASPA Education Day II
HiFive from SiFive: Project Show Case

Venue:

Zoom Video Webinar


Date:

Saturday, Aug 15th, 2020


Time:

2:00 pm to 4:00 pm PDT


Registration Link:

https://www.eventbrite.com/e/2020-caspa-and-sifive-special-education-day-event-tickets-113575328866


Agenda:
| | |
| --- | --- |
| US Pacific Time | Topics |
| 2:00PM – 2:10PM | CASPA introduction |
| 2:10PM – 2:20PM | SiFive introduction |
| 2:20PM – 3:20PM | Keynote speech |
| 3:20PM – 3:40PM | Tynker introduction of Hifive project |
| 3:40PM – 4:00PM | Showcases |
2020 CASPA Online Job Fair
Venue:

Online ZOOM meeting


Date:

Saturday, Aug 22th, 2020


Time:

10:00 am to 4:00 pm PDT


Registration Link:

https://www.eventbrite.com/e/2020-caspa-high-tech-job-fair-tickets-109434836542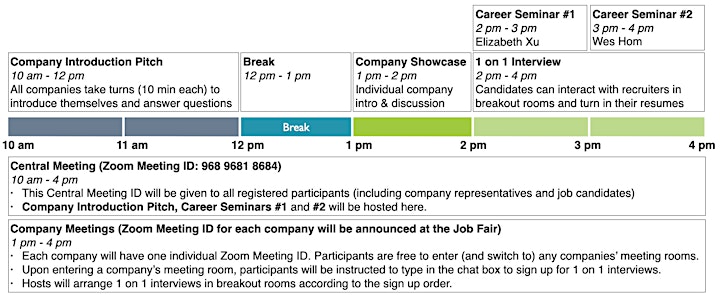 Semiconductor News
Alliance Events
Fight Against COVID-19 in US
CASPA and CAC Hand-in-Hand have jointly donated more than 2,500 medical/surgical masks, 350 N95/KN95 masks, 350 face shields, 55 goggles, 300 pack of wipes and 10 coverall suits to Northeast Medical Services, Courtyard Care Center, Good Samaritan Hospital, El Camino Hospital, and several individual doctors and nurses in the Bay Area by April 30, 2020.
Dear CASPA members and friends,
Our PPE donation effort is still on-going. We have extended our distribution to New York, and the total number of donated PPEs has already exceeded 20,000. More information about our stories can be found on our website.
Click here to donate through our web page or other ways you can help
Thank you in advance for your generous support.
Allen Liu, Head of IT, on behalf of CASPA board members
CASPA Job Alert
[LeapFive]

is looking for CEO
Specials for CASPA Members and Sponsors
[Air China]

Special discount code for CASPA members and sponsors: USSME19006. Please follow the instructions below to purchase tickets online with the discount code.
Summary of Past CASPA Major Events
The following links include presentation materials and/or summary for previous major CASPA events in the recent year:
Thank you for your kind attention and generous support. We look forward to seeing you at CASPA events.
Sincerely,
CASPA | eLetter Publication
QUESTIONS: Please do not reply to this message. If you have any question or need further information, please contact our office at office@caspa.com.
UNSUBSCRIBE: Click here with "UNSUBSCRIBE" in the subject line to unsubscribe.
Copyright 2015 CASPA. All right reserved.