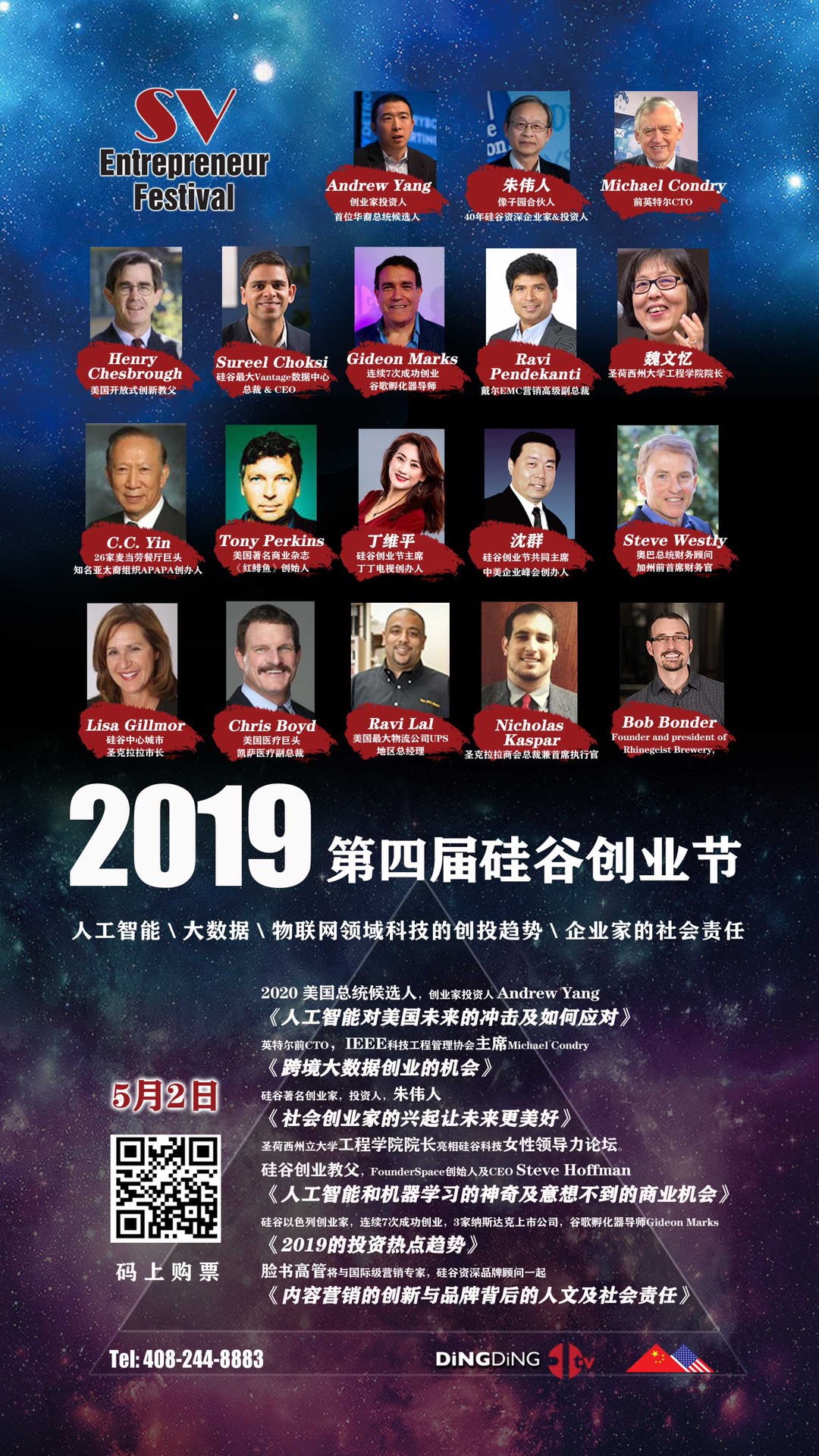 Silcon Valley Innovation Channel Ding Ding TV and China-US Business Summit will host the 4th Silicon Valley Entrepreneur Festival at the Santa Clara Convention Center on May 2nd.
The past Silicon Valley Entrepreneur Festivals in 2016, 2017 and 2018 brought together more than 300 speakers, several hundreds of outstanding projects on the technology frontier and thousands of senior investors and industry leaders. With more than 5000 participants, Silicon Valley Entrepreneur Festival has become one of the most iconic technology entrepreneurship and venture capital conferences in the Silicon Valley startup circle.
Founded in 2009 and located at Silicon Valley, Ding Ding TV is the largest China-US innovation and entrepreneurship content creation and networking platform. It is the first tech media in the United States to connect China and US. In the past ten years, the organization has hosted or co-hosted thousands of technology events, has invited thousands of industry leaders and innovation pioneers in the United States to speak or for interview and has created more than 30000 pieces of content covering hundreds of millions of people in China and the United States. The Ding Ding TV team has focused on technology innovation for many years and has created the most influential technology entrepreneurship conference in North America.
The China-US Business Summit is a non-governmental platform for exchange and cooperation between Chinese and American SMEs with more than 10 years of history. It has successfully hosted many large international events in Los Angeles and other cities.
The Silicon Valley Entrepreneur Festival 2019 will focus on topics such as artificial intelligence, big data, VC funding, cutting-edge technology releases, content marketing, and women in leadership. It will bring together thousands of public companies, investment institutions, and outstanding Silicon Valley entrepreneurs and technology media.
For guest speaker recommendations and partnership, please contact: Sandy Wang, sandy@dingdingtv.com; Diana Ding, diana@dingdingtv.com;
Phone: 408-244-8883 www.SVEF.BIZ
【2019硅谷创业节】
硅谷创新频道丁丁电视与中美企业峰会将于5月2日在Santa Clara会展中心举办第四届硅谷创业节。
硅谷创业节2016-2018汇聚了超过300多位演讲嘉宾、几百个优秀前沿项目及上千位资深投资人及行业领袖,参与人数超过5000人,已经成为硅谷创业圈的最有影响力的科技创业投资峰会之一。
丁丁电视是硅谷最大的中美创新创业内容人脉平台,美国第一个连接中美的科技媒体。在过去十年主办协办科技活动上千场,邀请过美国上千位行业领袖及创新引领者演讲及专访,3万多个内容覆盖中美上亿人群。丁丁团队多年来聚焦全球高科技,创造北美最有影响力科技创业大会品牌。
中美企业峰会是为中美两国中小企业的国际交流合作搭建一个民间的平台,为中美企业和企业家的国际运作提供综合性服务。
硅谷创业节2019将围绕人工智能、大数据、创业投资、前沿科技发布、内容营销、女性领导力等主题,将在硅谷汇聚全球上千个上市公司、投资机构以及硅谷优秀的创业者及科技媒体人。
嘉宾推荐及合作请联系: Sandy Wang, sandy@dingdingtv.com ;Diana Ding, diana@dingdingtv.com;
电话:408-244-8883 www.SVEF.BIZ
Please go to website www.SVEF.BIZ for more information.