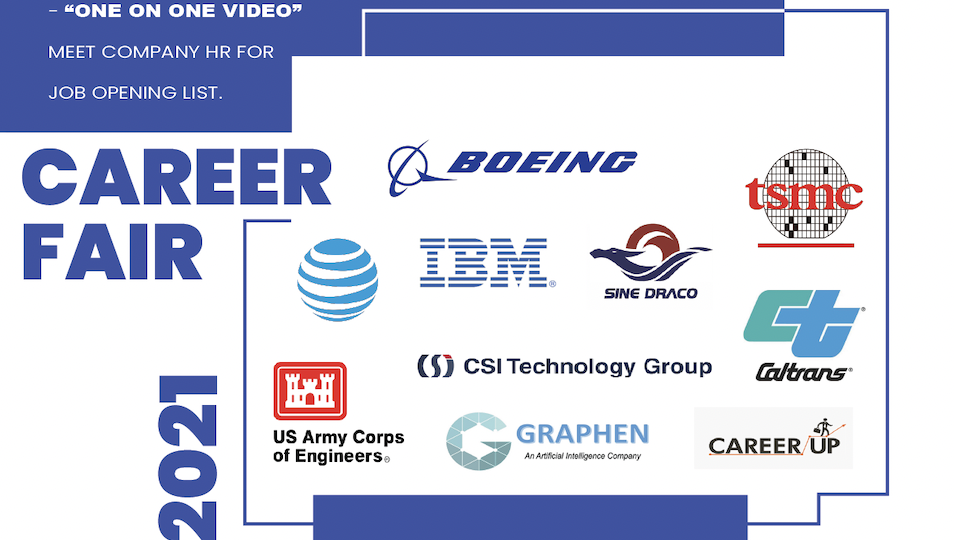 Theme: "Effective job application during and post pandemic!"
About this event
AAEOY Career Fair sponsors include Boeing, IBM, AT&T, US Army Corps of Engineers, TSMC, Caltrans, CSI, Graphen, Sine Draco. The NPO CareerUp Club also joins with high-tech hiring managers from Google, Amazon, Facebook, Microsoft, etc. They bring job openings to AAEOY Career Fair for intern, entry level, professional level and executive; in the event they'll share the advice from HR and hiring manager with the attendees.
AAEOY (Asian American Engineer of the Year) is a national annual recognition event to honor the most distinguished Asian American professionals for their leadership, technical achievements, and remarkable public services. There are 304 awardees since 2002 in the STEM community including nine Nobel Laureates, academic scholars, key corporate executives, and an astronaut!
Due to the COVID-19 pandemic AAEOY Talent Meetup is split into two online events: Career Fair on June 5th and Career Carnival on July 31st , www.aaeoy.org. You are registering for the Career Fair here. Registration of Career Carnival will start in June 2021.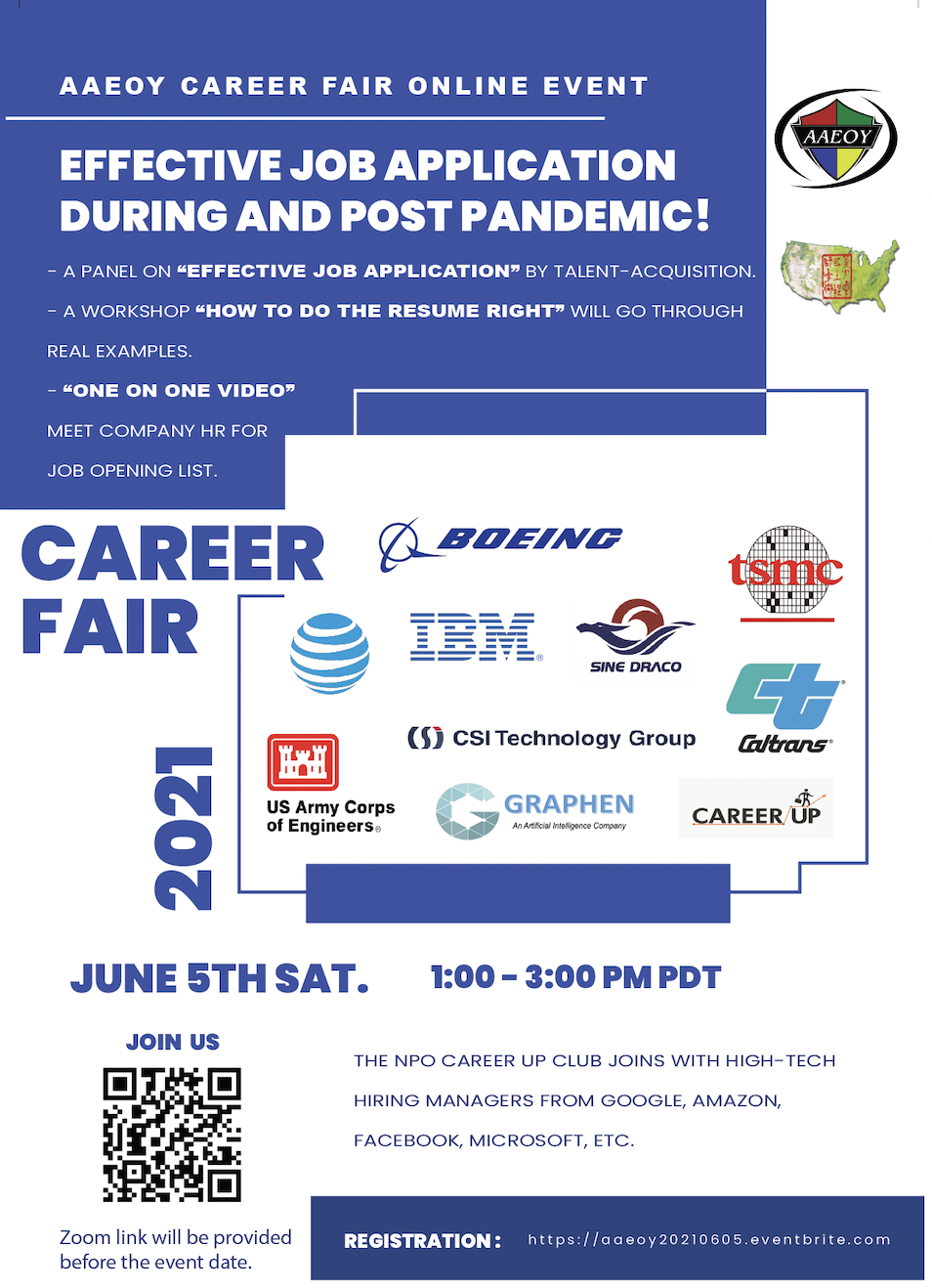 Why should we attend the event?
1. We can interact directly with talent acquisition experts from sponsoring companies listed in the beginning.
2. A panel of talent-acquisition experts will share with us what they look for in the candidates' qualification and how to prepare an effective job application during and post pandemic.
3. We'll learn in the workshop through real examples how to improve a resume.
This event is for interns, entry level, experienced professional, and executive.
Registrants need to answer a list of questions. Registrants will need to answer a list of questions and agree to 1) share their information with the sponsoring companies and 2) be contacted for job opportunities.
The internet link to join the event will be emailed to you before the event. For registration, please click here!
Virtual career fair on Sat. June 5th 1-3PM PDT
✅"How to do the resume right?" A talent acquisition expert will walk you through some real examples with the audience in an online workshop.
✅A panel on "Effective job application" by talent-acquisition will share their experiences of good candidate's qualifications.
✅"Face to face video meeting" to meet company HR for the job opening list and criteria.
✅ Interact directly with hiring managers from companies including Boeing, IBM, AT&T, TSMC, Caltrans, CSI, Graphen, Google, Amazon, Facebook, Microsoft, etc.
✅ Register now: https://lnkd.in/g6vxCdN