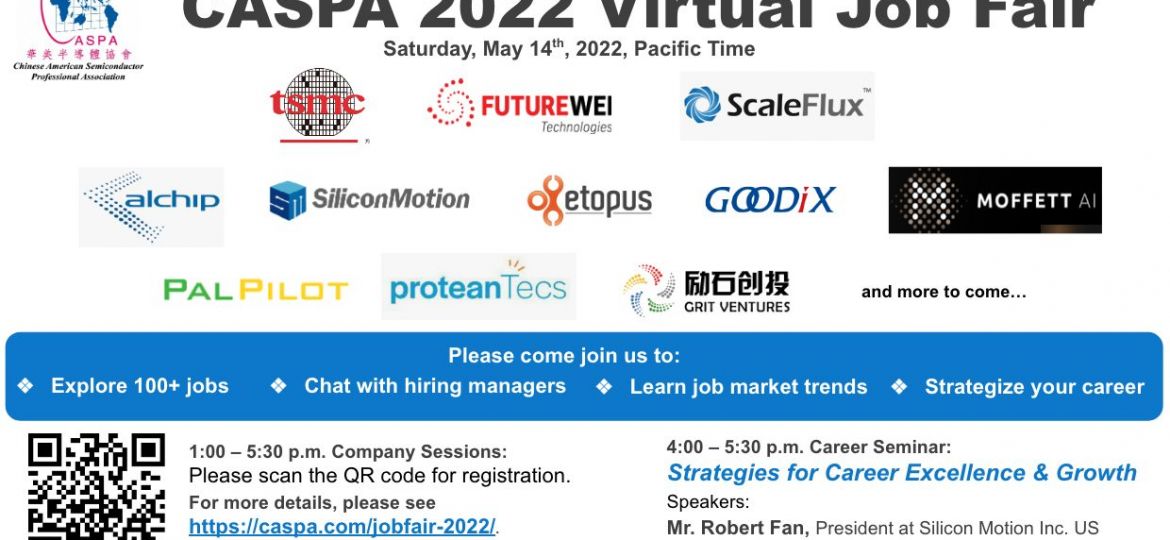 The CASPA 2022 High-tech Job Fair will be held on May 14th, 2022. It will be the second virtual Job Fair from CASPA, a nonprofit and the world's largest Chinese American semiconductor professional association. CASPA's mission is to provide a platform to serve the semiconductor industry and its professionals while promoting technological innovation. 
Given the talent shortage that the semiconductor industry is facing, the CASPA 2022 Job Fair on one hand aims to help mitigate the situation, by providing a talent pipeline that is built upon CASPA's platform, membership, and brand value. Last year, CASPA 2021 Virtual High-Tech Job Fair attracted over 400 talents to meet with over 10 hiring companies including TSMC, Applied Materials, and Intel, resulting in successful talent recruitment. 
This year, the 2022 Job Fair will help attract talents from its talent pool, including media followers, over 7,000 of its members, and new college grads, for approximately more than 100 on-demand positions that will be collected from more than 10 hiring companies in the industry. Based on the requirement of these positions, the Job Fair will focus on experienced industry professionals ranging from early to senior careers and qualified talents from universities.
Aligning with CASPA's mission in terms of serving semiconductor industry professionals, the Job Fair on the other hand also provides a Career Growth Seminar alongside numerous career opportunities. The aim of 2022 Job Fair Career Growth Seminar is to help strategize the career development and growth of the community and encourage them to pursue career excellence and grow professionally.