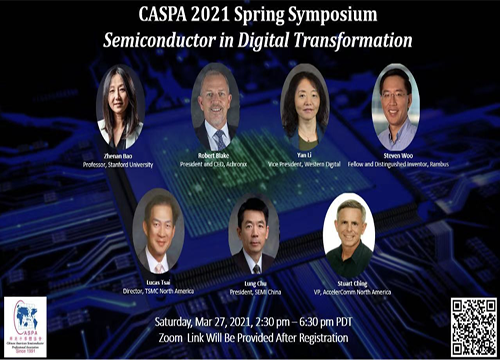 Dear Members,
The biggest news related to the semiconductor industry came out last week. Semiconductor Industry Association (SIA) and China Semiconductor Industry Association (CSIA) will set up a working group to create an avenue for communication and improve supply chain security. We hope this will help to improve communication in the semiconductor industry between China and the US.
The 2021 CASPA Spring Symposium, featuring the theme "Semiconductor in Digital Transformation", will be held on Saturday, March 27, 2:30- 6:30 PM, online via Zoom. Professor Zhenan Bao from Stanford University and a few executives from TSMC, SEMI, Rambus, Western Digital, Archronix  and Accelercomm will discuss the role of semiconductor in data processing, storage, computation, architecture, and infrastructure. Please check CASPA website for detail.
The 2021 CASPA Virtual job fair will be held Saturday, May 15, 1:00- 5:00 PM, online via Zoom. For employers who would like to participate, please contact office@caspa.com for further information.
Also, for those who are interested in applying for a CASPA scholarship for their Senior High school kids (by Oct 2021) this year,  please make sure to join CASPA life membership before April 16 to be eligible. Our lifetime individual membership is only $100 and there is a limited time 50% discount for college students (till the end of June 2021). Please visit the website http://www.caspa.com/members/member-payment to join.
Best Regards,
Xiaodong Zhang
President and Chairman, CASPA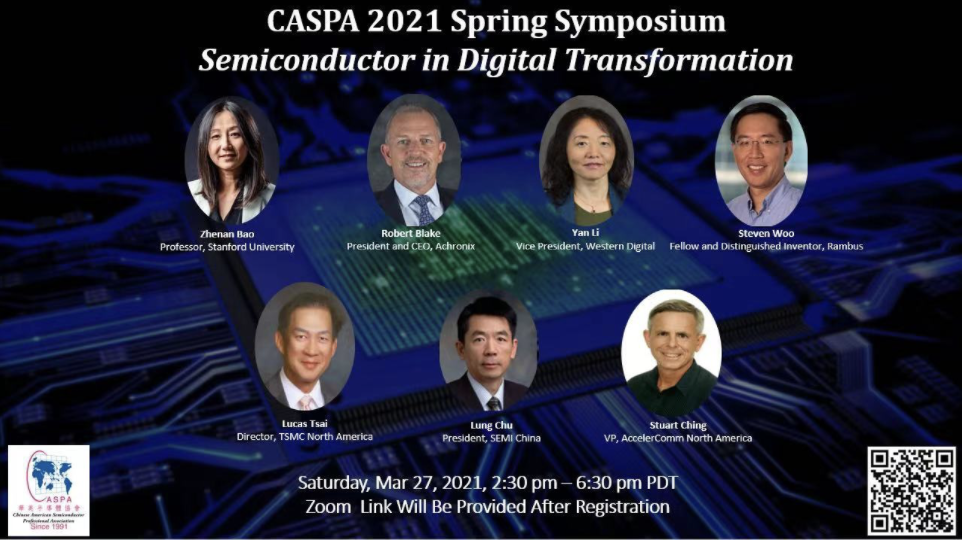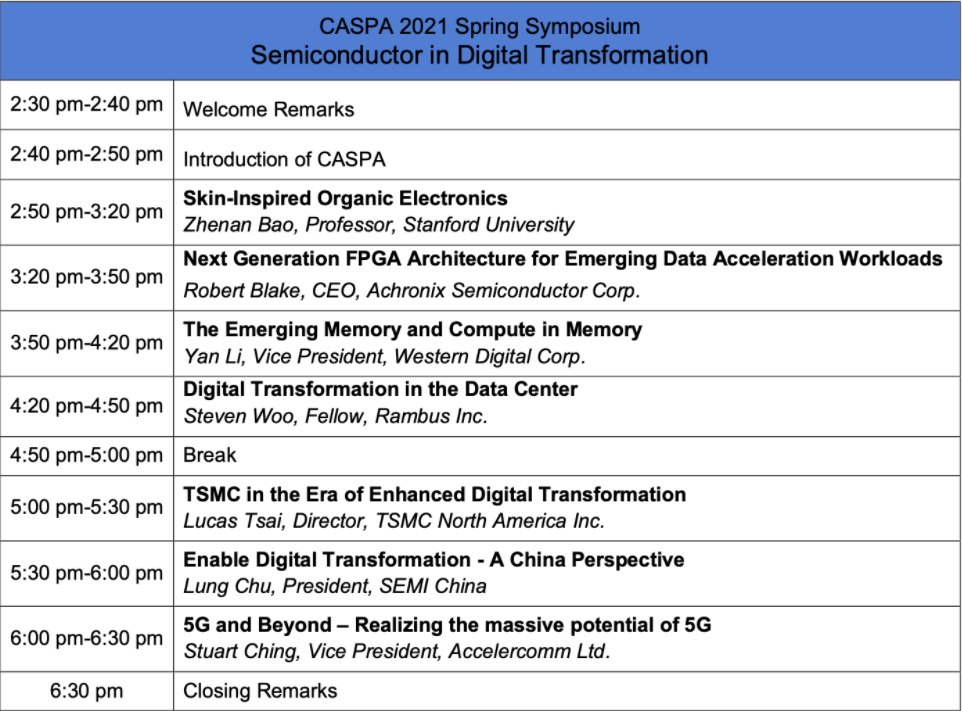 CASPA proudly presents the 2021 Spring Symposium: Semiconductor in Digital Transformation.
Several company top executives and technology pioneers from industry and academia will share their perspectives in this rapidly evolving tech world. Distinguished speakers include: Prof. Zhenan Bao of Stanford, Dr. Lucas Tsai of TSMC North America, Mr. Robert Blake of Achronix, Dr. Yan Li of Western Digital, Dr. Steven Woo of Rambus, Mr. Lung Chu of Semi China, and Mr. Stuart Ching of AccelerComm. Topics span from skin-inspired organic electronics to the unstoppable massive potential of 5G communication.
Free registration is open until 3/22 and $10 thereafter.
Please reserve your ticket now, as availability is limited: https://caspa2021-spring-symposium.eventbrite.com
Summary of Past CASPA Major Events
The following links include presentation materials and/or summary for previous major CASPA events in the recent year: