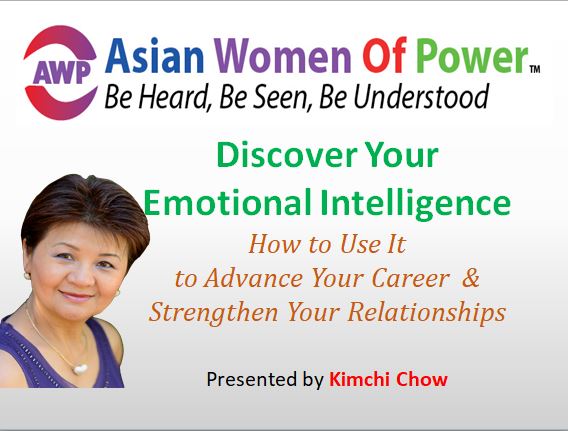 Date:  Wednesday, Jun 12, 2019
Time: 6:30 PM – 9:00 PM PDT
Location: ITRI International Inc. 2870 Zanker Road ## 140 San Jose, CA 95134
Agenda: 
6:30pm – 7:00pm: registration, light refreshment, networking
7:00pm – 7:10pm: CASPA intro and ITRI welcome remarks
7:10pm – 8:40pm: seminar (interactive workshop)
Topic: DISCOVER YOUR EMOTIONAL INTELLIGENCE – How to Use It to Advance Your Career & Strengthen Your Relationships
8:40pm – 9:00pm: Q&A, discussion
Before you come:
Please kindly fill out these questionnaires BEFORE coming to the seminar on 6/12/19.  These questions help us create the right content for you.
Please bring your business cards if you would like.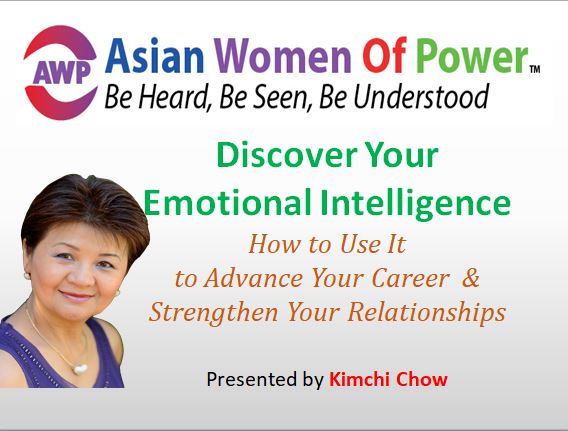 Speaker: 
KIMCHI CHOW
Kimchi Chow is a life coach, an entrepreneur and the CEO of the Asian Women of Power, a global coaching & training company focusing on transforming the Asian culture to create equality treatment for women at home and work, in Asian countries and offshores. Kimchi created the movement of "LIVE LIFE LOUD," which often expressed and shared through stories from her guests on the Asian Women of Power podcast.  Kimchi is the first Asian American woman, above 55 years old, to host a podcast in America.
Kimchi came to the USA when she was 20 years old from Vietnam. She had a hard time fitting in with both American friends and Asian friends. She spent almost three decades to search for happiness and fulfillment in her life.   Going from being an engineer and manager for a high tech company to be an owner and founder of multiple companies, Kimchi had to learn to adapt to any situation she was in.  She learned how to motivate her employees, how to get support from her peers, how to serve her clients best, and how to sell to strangers.
Through these experiences, Kimchi developed her proprietary methodology which would help her Asian American clients in these areas:  increasing sales, improve customers' and employees' satisfaction, create harmony in a family, strengthen marriages, improve emotional quotient to advance in a career and to create a life that is worth living.
Kimchi appeared on multiple radios and podcasts in America.  Her podcast, the Asian Women of Power, is now in 42 countries. The guests she invited to her podcast were Chairman, CEO, President, Vice President, Heads of a Research group, coaches, and philanthropists. They all share the same goals: to break the stereotype about Asian and to show examples of how they found their paths by LIVING their LIFE out LOUD.
When Kimchi is not busy helping the Asian American professionals and business owners living their lives to the fullest, she enjoys spending time with her husband, I-Shun, to visit botanical gardens or hiking.  Her dream is to travel the world, to experience different cultures and food, to see the most beautiful places on earth.  She enjoys reading self-development books to learn about leadership, self-healing, past-lives regression, mind-body-spirit connection. She also loves watching "The Voice," American Idol," "American Got Talent," "So, You Think You Can Dance," and true-story movies.  She considers these shows are her best and cheapest entertainments because they brought joy to her life.
She is currently serving as the Board of Advisor for The AGIF organization (www.TheAGIF.org), and the Board of Volunteer for CASPA organization (www.CASPA.com).