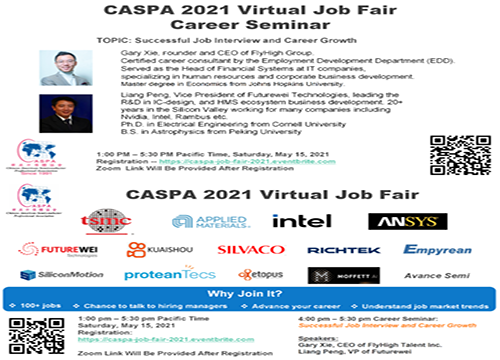 Dear Members,
Worldwide chip shortage is getting more severe due to serval factors such as the surge in demand for consumer electronics during the pandemic, strong growth on IoT, 5G, and electrical vehicles, compounded by pandemic-enforced manufacturing reduction. As a result, semiconductor companies are booming worldwide.
To address the needs for talent recruiting for the semiconductor companies and bring new job opportunities close to our community, CASPA will host its first Virtual Job Fair. The job fair is one of the CASPA's signature events. We hosted 22 job fairs with over 190 hiring companies and more than 10000 attendees. 2021 CASPA Virtual Job Fair will be held on Saturday, May 15, 1:00- 5:30 PM, online via Zoom at https://zoom.us/j/94950109425. 14 companies will attend this CASPA's first online job fair, including Intel, TSMC, Applied Material, Futurewei, Kuaishou, Ansys, Silicon Motion, Silvaco, proteanTecs, Empyrean, Richtek, Etopus, Moffett AI, and Avance Semi, etc. Hundreds of positions, ranging from engineers to managers, and from interns to supervisors. Besides the job fair, a career development seminar will also be held. Two speakers, Gary Xie, CEO of FlyHigh, and Liang Peng, VP of Futurewei, will discuss how to prepare for a job interview and how to develop a successful career in the semiconductor industry. People across the world can participate in this free online event. As CAPSA's website is under construction, the website for this job fair is temporarily moved to https://caspa.com/ 
In addition, CASPA will host the 2021 Science Fair this Summer. It will open to all elementary, middle school, and high school students. The students are challenged to go beyond their classroom studies. The spaces are limited. Please check CASPA's website for details on how to participate.
Best Regards,
Xiaodong Zhang
President and Chairman, CASPA
CASPA Virtual Job Fair
Date: May 15, 2021 Sat. 1:00 – 5:30 PM PST
Details: click here!
Registration: click here!
CASPA is hosting the highly anticipated Job Fair once again! This year it is a virtual job fair through Zoom. 14 high-tech companies such as Intel, TSMC, Applied Materials, Futurewei, Kuaishou, proteanTecs, and more will join this recruitment event. Please check our job fair website  https://caspa.com/ for more detail. The entrance to the job fair main lobby is  https://zoom.us/j/94950109425.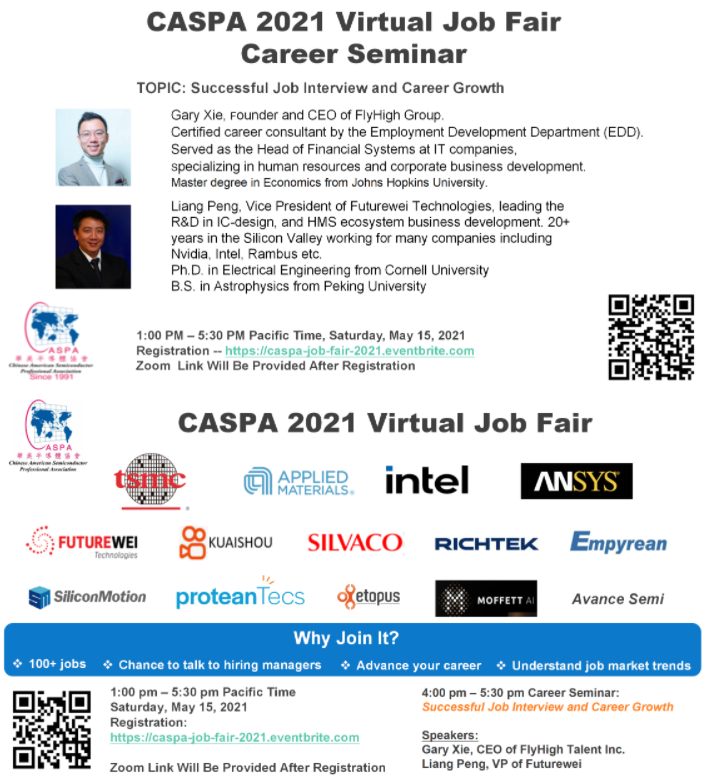 2021 CASPA Science Fair
Place: Online ZOOM meeting
Date: Saturday June 19, 2021 for G1-G5
Saturday August 7, 2021 for G6-G8 G9-G12
Registration deadline: Two weeks before presentation
Registration link: shorturl.at/hDK39
Category:
Physics
Math
Computer Science
Engineering
Please check the updates on caspa.com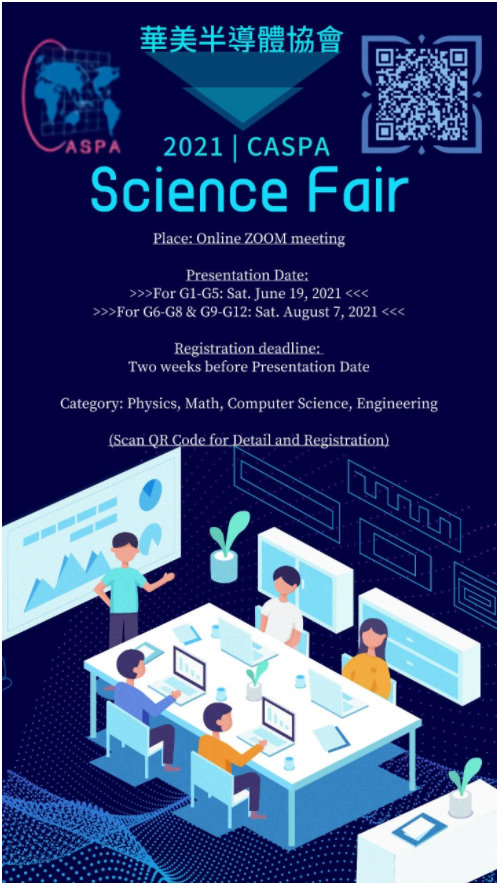 Summary of Past CASPA Major Events
The following links include presentation materials and/or summary for previous major CASPA events in the recent year: