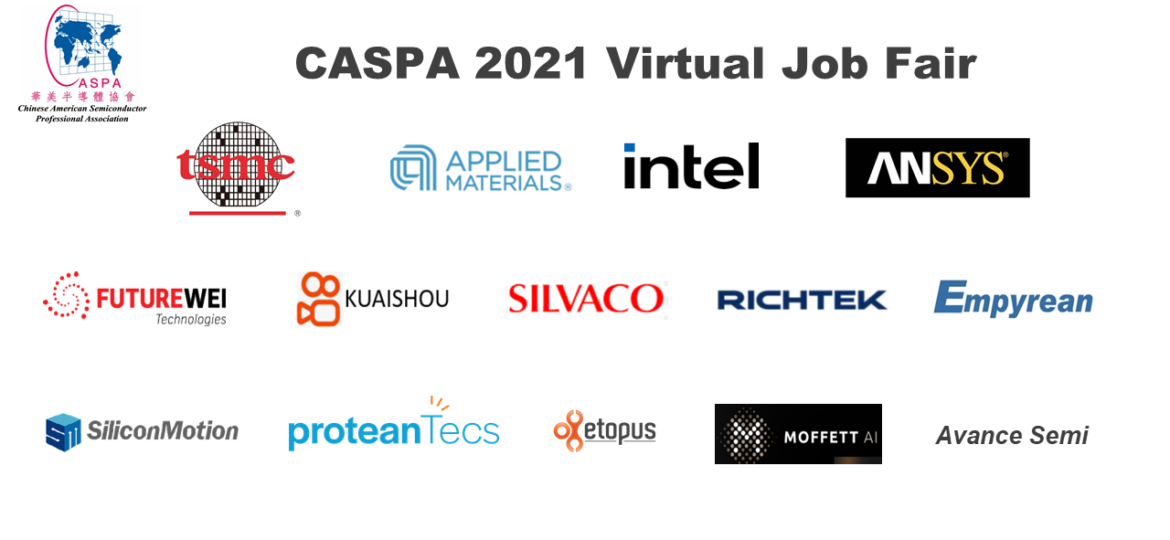 Opening positions includes:
Engineers:
System Architect, Analog Circuit Designer, ASIC/Digital design Engineer, RF Engineer, FPGA Design and Verification Engineer, Application Engineer, Hardware Engineer, Mechanical Engineer, Process Engineer, Testing/Validation Engineer, etc.
Software Engineer, AI system Engineer, Algorithm Engineer, Machine Learning Software Engineer, etc.
Scientists:
Data Scientist, Research Scientist, Machine Learning Scientist, etc.
Managers:
Engineering Manager, Product Marketing Manager, Sales Manager, Application Manager, Program Manager, Project Manager, etc.
Directors:
Marketing Director, Sales Director, Engineer Director, etc.
Interns:
Undergraduate Intern, Graduate Intern, Software Design Engineer Intern, etc.
DISCLAIMER:
CASPA offers the job fair as a platform open to all high-tech related companies. All registered companies are welcome to participate CASPA's job fair. For companies attending the job fair, CASPA declares that CASPA neither endorse nor oppose any of the job fair participants. CASPA, however, as an event organizer, reserves the right to decline any companies from participating the job fair for any unforeseen reasons.